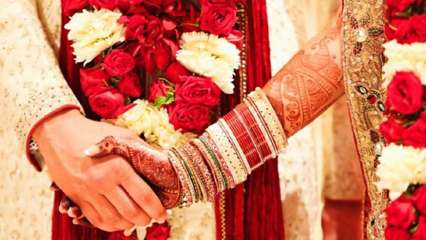 In an unfortunate incident, the police in Lucknow stepped in to stop interfaith wedding after receiving complaints from Hindu outfits. The police cited the newly passed Uttar Pradesh Prohibition of Unlawful Conversion of Religion Ordinance, 2020, to stop the wedding.
It is to be noted that it was a wedding that got the consent of both the Hindu bride and Muslim bridegroom's parents.
The wedding occurred in Lucknow's Duda Colony on Wednesday, according to an Indian Express report.
As the final preparations of the wedding were on, which was to be held according to Hindu rituals, a team of law enforcement officials from the local police station reached the venue of the wedding and asked the couple to get clearance from Lucknow District Magistrate.
The 22-year-old Hindu bride and the 24-year-old Muslim bridegroom are now awaiting approval from the District Magistrate for the marriage.
According to reports, the representatives of Rashtriya Yuva Vahini objected to the wedding and tried to put a stop to it.  
"The couple told us that they wanted to get married. The Muslim youth wanted to become Hindu and get married. They were getting married according to Hindu rituals," Indian Express quoted  Para Police Station SHO Triloki Singh said.
Reportedly, the families of the couple were handed over the copy of the anti-conversion ordinance and were informed about the sections under which they can't get married until the District Magistrate grants permission. 
Lucknow DCP (south) Ravi Kumar had said that they have given in writing that they will not proceed with the wedding until permission is granted by the District Magistrate.