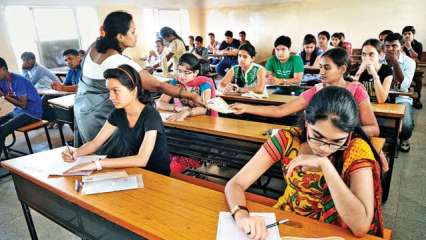 Students in India are eagerly waiting for the Central Board of Secondary Education (CBSE) board, Eligibility Entrance Test (NEET), and Joint Entrance Examination (JEE) exam dates. Centre will address students' concerns about the board exams, and other competitive exams on December 10. 
Union Education Minister Ramesh Pokhriyal Nishank will hold a live interaction with students on December 10 where he will address the students' concerns over the above-mentioned matter. He would go live on Twitter and Facebook to answer the queries of concerned teachers and students.
"Dear all, 2020 has been a year of a great many changes like adjusting to #onlineeducation, adapting to #newnormal. Happy to share that I am going live on Dec 10 to talk about upcoming competitive/board exams with you. Drop your concerns below using #EducationMinisterGoesLive," Pokhriyal tweeted on December 2 (Wednesday).
Meanwhile, the CBSE has said the board examinations of 2021 will be conducted in the conventional written mode, adding there was no proposal to conduct the exams online, news agency IANS reported.
"The board examinations of 2021 will be in the regular written manner and not online," the CBSE stated.
The dates of examination, however, have not been decided yet, officials said.
According to the Ministry of Education, "conducting the examinations is important to ensure the progress as well as better future of the students".
The Joint Entrance Exam (JEE)-Main for admission to engineering colleges across the country is likely to be held in February instead of January, according to officials. The rising number of COVID-19 cases and engineering admission for this year still being underway are among the reasons behind authorities contemplating the move.
This year, amid the pandemic and `new normal` scheme of things, a wide range of discussions have been underway among students, parents, and teachers regarding the examinations.
From the registration of board exams to classroom operations, everything is being conducted virtually.
The Education Minister has planned a three-stage dialogue with the alumni, parents and teachers for conducting the examinations. He is likely to communicate directly with students, parents and teachers through webinars on three different dates.
After this virtual dialogue, the education minister will review the examinations to be held in the states and union territories. In this way, a detailed plan to conduct the examinations will be made according to the orders of the Ministry of Health, Ministry of Home Affairs.