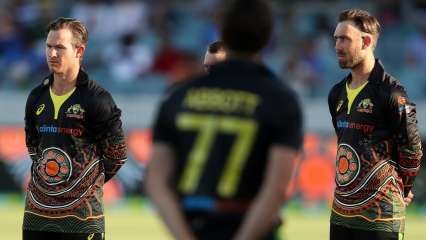 Before the start of the India vs Australia series, Mitchell Starc had won a jersey that was unlike any of the previous Australian cricket jerseys of the past. Fans all over the world have been used to seeing the Australian cricket team don the yellow, canary yellow, green and gold jersey as well as the green and yellow jersey in past ODIs. However, this new kit was something different and Aaron Finch's Australian team wore it during the first Twenty20 International against Virat Kohli's Indian cricket team at the Manuka Oval in Canberra on Friday.
The jersey was designed by Kirrae Whurrong woman Aunty Fiona Clarke & Butchulla and Gubbi Gubbi woman Courtney Hagen, the shirt continues the storytelling of the 1868 cricket team. The stars in the jersey represented the ancestors of the aborigines and those that came before them. The green circles symbolize the strength between people and the continuation of their journey in life.
On the back, there is an emblem that states the thousands of years men have fought, educated and stood for the rights of the community. It has 11 signs which symbolize the 11 men around the campfire that represented the first indigenous cricket team of Australia in 1868. There is a band that shows the river and land and it acts as a connection with families to nature. The centre of the jersey has a big emblem that shows the past, present and future aboriginal cricketers. The jersey has been winning the internet and people have expressed their happiness that this is the right step by Cricket Australia in acknowledging the contributions of the indigenous people in the country.
Australia eye comeback
Australia won the toss and chose to bowl in the first T20I against India. David Warner has been ruled out of the series due to a groin injury. India have enjoyed a good run in Twenty20 Internationals, winning their previous series 5-0 in New Zealand while they have won four out of the last six Twenty20 Internationals in Australia since 2016.
However, Australia have won three out of the last five matches against India and they will be gunning for some luck with the new jersey.