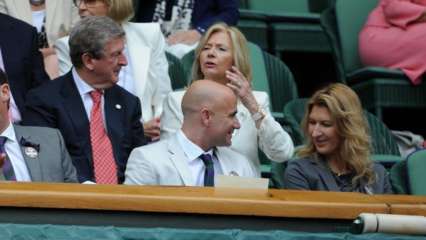 Steffi Graf and Andre Agassi are the power couple of tennis. Steffi Graf is the 22-time Grand Slam champion and is one of the legends of the game. Andre Agassi, on the other hand, became the fifth player at that time after Rod Laver, Fred Perry, Roy Emerson and Don Budge to win the career Grand Slam. Both Agassi and Graf also have another thing in common is that both have won the Olympic gold as well, with Graf winning the top prize in the 1988 Seoul Olympics while Agassi did it in 1996 Atlanta.
Ever since their retirement in 1999 and 2001 respectively, Steffi Graf and Andre Agassi have participated in a lot of charity event games as well as other philanthropic activities. However, in an interaction at the Hindustan Times Leadership Summit, Andre Agassi and Steffi Graf have opened up on the travails a player faces after retirement.
"When you unplug from tennis it's almost like PTSD, intensity of engagement – bit like having drugs and not (taking it). Life seems boring for a while. It's hard to realise life could be a bit more relaxed as well. Sports makes you tough from one perspective, it also makes you a person where you need to disconnect and grow in some other way," Agassi said during the Hindustan Times Leadership Summit.
Tough to find emotional balance
Steffi Graf, on the other hand, said that it was a tough challenge to find the emotional balance and how tough it is for elite players to give their best day in and day out on a consistent basis.
"Emotionally it's hard to ask the best out of yourself day after day. As you get closer to the top, the expectations are a lot. You don't realise the amount of pressure not just from outside, but even from the perfectionist that is within you. Once you walk away, you're far from having that equilibrium. There's so much you're taught in tennis that there's a big part you're missing and a big part you gain. But there's so much it prepares you for the post retirement life. It's a different phase but I see with players who are close to retiring, they have the question, 'Where do you go from here'. Because tennis has been all that they know," Graf said.