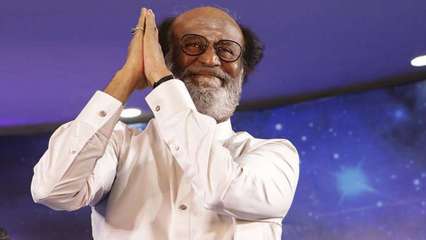 Superstar Rajinikanth has finally ended the suspense over the launch of his own political party with the grand unveiling set to take place in January 2021. Born Shivaji Rao Gaekwad, Rajinikanth started working as a bus conductor for three years before joining an acting school.
More than 24 years after first making his foray from films into close proximity to the world of politics, Rajnikanth made this blockbuster announcement ahead of the Tamil Nadu Assembly elections.
It was Rajnikanth's famous statement that 'If Jayalalithaa is voted back to power, even god cannot save Tamil Nadu' back in 1996 which led to AIADMK's demise in the elections that year in the state after former Prime Minister PV Narasimha Rao-led Congress had aligned themselves with Jayalalitha's party.
In 1998, he had also supported the late Congress leader GK Moopanar, who had launched his own party in Tamil Nadu.
It is believed in certain circles that Narasimha Rao's differences with Rajnikanth had blocked his entry into active politics that year. However, 'Thailaiva' is not someone to take a backward step as in 2002 he revealed plans for a 'people's movement' on the Cauvery issue.
Two years later, Rajinikanth threw his weight behind the BJP-AIADMK alliance although his opinions about Jayalalithaa hadn't changed by then. Once again his legion of fans hoped that the superstar would finally enter politics when Prime Minister Narendra Modi flew down to Chennai ahead of the 2014 General Elections but Rajnikanth dashed the hopes by claiming that there was nothing 'political' about the meeting.
But three years later there was finally music to the ears of Rajnikanth's fans when he announced on the last day of 2017 – December 31 – that he enter politics for sure and fight the 2021 Assembly elections.
In March of 2020, Rajinikanth announced a three-point strategy for an alternative model of politics. The main point of his plan was keeping himself out of running for Chief Minister's race by appointing a young, visionary and knowledgeable person, a separate party from the government by forming a council that would supervise the functioning of the government, abolish thousands of party posts and encourage youngsters to join the party.
Rajnikanth is already 69 years of age but remains an icon of Indian cinema with over 175 films to his credit from 1975 – mostly in Tamil and Telegu language. His entry into TN politics will be an effort to fill the void left by the deaths of Jayaram Jayalalithaa and Muthuvel Karunanidhi, the leader of the opposition Dravida Munnetra Kazhagam (DMK) party.
Cinema has also had a major influence in TN politics with CN Annadurai and M Karunanidhi graduating from scriptwriters to become chief ministers. The superstar's entry will be great news for BJP who will be hoping for a solid foothold in the state by 2026 with the support of Rajnikanth.
As Thailaiva announced on Thursday, 'I am coming and we will change everything in Tamil Nadu'. Change is inevitable now!