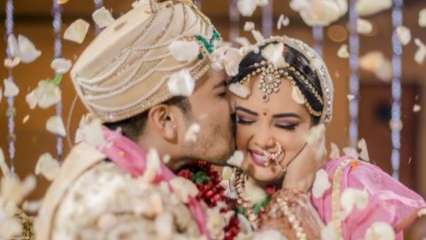 Singer-actor Aditya Narayan tied the knot with long-time girlfriend Shweta Agarwal on Tuesday in an intimate ceremony attended by family members and close friends, given the restrictions in place owing to the ongoing coronavirus pandemic. 
While pictures of the grand wedding and reception ceremonies where the groom and bride are dressed in the best of attires have been going viral on the Internet and fans can't stop gushing about them, it's Aditya latest interview that is making the waves online. 
In his recent interview with Bollywood Hungama, the singer-actor opened up about suffering a minor wardrobe malfunction during the wedding ceremony. When asked what his most memorable moment from the wedding was, Aditya, who could have mentioned a lot of other things from the intimate affair, left everyone in splits when he revealed that he had to borrow his friend's pyjamas because he tore his while being lifted by friends and family members to put garland around Shweta.
Aditya disclosed that during the 'pheras' he wore his friend's pyjamas since he couldn't continue wearing his as they had torn during the 'varmala' ceremony. 
Talking about how he feels after exchanging wedding vows with his ladylove Shweta, Aditya told the publication, "It feels great! We are lucky to have found each other and to have grown and been together for so many years."
He also revealed his honeymoon plans during his interaction. He said that since he has to be in Mumbai every week the couple has decided to take three mini-vacations — Shillim, Sula vineyards and Gulmarg.
Meanwhile, on Wednesday Aditya posted an Instagram video giving a glimpse of the ceremony. For an uber-glam effect, the video has been edited to feature Amitabh Bachchan. The video ended with a meme, which featured megastar Amitabh Bachchan's clip from a film. The veteran actor can be heard saying, "They have done it. Our boys have reached."
Aditya captioned the post, "Video edit courtesy idiot best friend Anupam Saroj, featuring GOAT Amitabh Bachchan."
While good wishes and congratulations poured in for the couple, many netizens noted how funny the video was.
Aditya also posted a photo of the newly-married couple where they can be seen lovingly looking at each other and smiling.
He let the pic do all the talking as he posted it without a caption, and just used a couple with heart emoji to describe it.