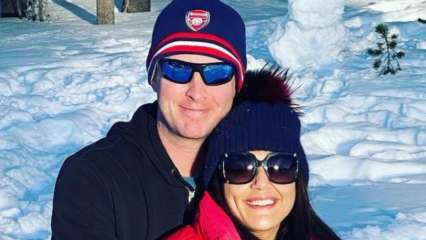 On Thursday, Bollywood actress Preity Zinta shared a selfie on her verified Instagram handle with husband Gene Goodenough. What was noteworthy in the picture was the empty streets of Los Angeles. Why empty? Well, because the city is going into another lockdown ahead of Christmas. 
As per Preity's post, Los Angeles is going into a three-week lockdown induced by the ongoing coronavirus pandemic. 
Earlier this year, nations around the world had imposed country-wide lockdowns to ensure the safety of its citizens from the novel coronavirus that has till now taken the lives of millions and the struggle to deal with it continues as citizens adopt to the new normal of wearing masks, practising social distancing among other things. 
In the said selfie, Preity and Gene are seen wearing face-masks. The empty streets of Los Angeles can be seen in the background, lit up and decorated for Christmas.
"The streets are empty again as LA goes into another 3-week lockdown. I cannot believe this is happening again. Take care, everyone. Stay safe everyone and plsss wear your masks," shared the actress on Instagram advising everyone to stay safe amid the ongoing Covid-19 pandemic.
Preity recently shared a post on the occasion of Thanksgiving Day calling it a rough year. "Happy Thanksgiving to all of you who celebrate. So much to be grateful for this year. I know it's been a rough year for a lot of people so keeping them all in our prayers and being grateful and thankful for having a roof over our head, food on our table and family to share it with," the actress had posted on Instagram.