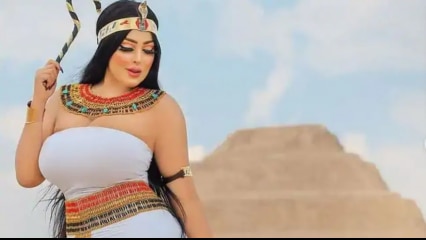 The police in Egypt arrested a fashion photographer after he clicked pictures of a fashion model in an ancient costume at a pyramid site outside Cairo. It is reported that the police arrested the model in the pictures, Salma al-Shimi, later as well.
The Guardian quoted security officials as saying, "A photographer has been arrested after a private shoot with model-dancer Salma al-Shimi in the archaeological zone. His case had been referred to the courts."
Shimi posted pictures, as well as a video from her shoot on her Instagram, handle a few days ago. The controversy emerged as the shoot was done in an ancient costume at the foot of the 4,700-year-old Pyramid of Djoser. Shimi has a following of thousands on her social media, who raised concerns on the matter.
It was reported that she was disrespectful as her outfit in the shoot was not according to Egypt's ancient heritage. She had been charged for breaking the rules by the Antiquities Ministry of Egypt for her pictures, said the rumours on the social media.
Many social media users expressed concern at her arrest. Some questioned if it was illegal to shoot normal pictures and videos at archaeological sites, even when there is nothing indecent about them.
Egypt has in the past seen arrests of social media users and influencers for posting content that was deemed offensive by the local authorities. It is women influencers who bear the brunt of such policing by the regime.