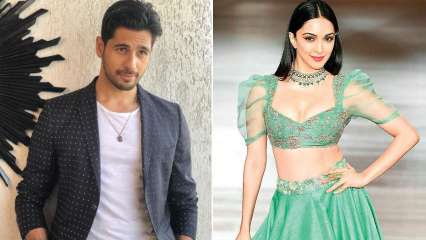 Kiara Advani, who is busy promoting her upcoming film 'Indoo Ki Jawani' on Wednesday gave a witty response when asked what would she write on Sidharth Malhotra's Tinder bio. 
The two — Kiara and Sidharth — are rumoured to be dating for some time now. They have been making headlines of late not just because of their upcoming flick 'Shehshah' in which the duo will be seen together for the first time, but also because they have been spotted chilling out with each other on various occasions recently. 
During her recent interview with Pinkvilla, when Kiara, who is gearing up for the theatrical release of her film on December 11, was asked to write a Tinder bios for her contemporaries she said that she would definitely include the title 'number one' in Varun Dhawan's bio, mentioning she would also write that he wouldn't stop at one since he likes to give 'one more take' and everything for him is 'one more. 
When asked to write the Tinder bio for Sidharth, Kiara paused for a few seconds, blushed and then said, "I don't want to put him on Tinder." Mallika responded, "She stumped you!" Kiara quickly added, "No, no, I'm kidding." 
Well, this might just be the actress's subtle yet effective way of telling the world that they are together and that Sidharth is taken. 
While revealing that she is old-school when it comes to romance, in her interview, Kiara also shared her views on her idea of dating in the modern world. She said, "I believe in that one woman, one man sort of thing. I still believe in that fairytale romance. I feel like dating apps if I find that person on it, for sure that's not a problem. My bio will be that only, looking for love. I am for the long haul. Those ways, for some people, I'll be very boring. All or nothing, that's me."
Earlier, during the promotions of her film 'Laxmmi' with Akshay Kumar, when Kiara was asked if she is single or not, she said, "I really like the status that says, 'I am single till I'm married'. So, I'm not married, that's why I'm single." 
In 'Indoo Ki Jawani', Kiara will be seen as a girl from Ghaziabad and the film shows her misadventures with the dating apps. 
'Indoo Ki Jawani' is directed by Abir Sengupta and also stars Aditya Seal as the male lead. The film is produced by T Series, Emmay Entertainment and Electric Apples.