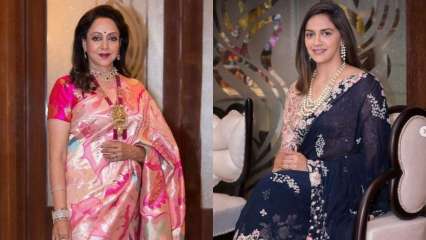 Veteran actress and politician Hema Malini is elated as she welcomed her daughter Ahana Deol's twins Astria Vohra and Adea Vohra recently. 
Speaking about the joyous news, in an exclusive interview with ETimes, Hema revealed that the family had to take extra precautions for Ahana owing to the coronavirus pandemic, She said, "We had to take extra precautions during Ahana's entire pregnancy because of the COVID wave."
Disclosing that husband and veteran star Dharmendra has still not sent he babies citing COVID as the reason, mentioning that the actor has been extra cautious to not venture out to the hospital, Hema, however, added that he has of course seen the photos of the two little angels. 
Talking about how did the family decided on the unique names of the twins, Hema told the portal, "Well, Aahana and Vaibhav (husband) had pre-decided a few names; some names of boys and some names of girls. We often do that, don't we? And I don't interfere in their choice, neither when it comes to Esha and Bharat. My happiness lies in my family's happiness." 
"Dharamji may go to see the babies in a day or two at Ahana's Worli house," she further revealed.
During the course of her interview, the veteran star also revealed that she and Dharmendra never thought their family would expand so much. She said, "When we fell in love and married, Dharamji and I never expected that our family would expand so much."
Ahana got married to Vaibhav Vohra in 2014 and welcomed son Darien in 2015. 
Meanwhile, actress Esha Deol has preserved the imprints of the hands and feet of her children. Esha shared a picture of the imprints of her daughter Radhya and Miraya in an Instagram post.
Alongside the image, she wrote, "Preserving the feel of our babies tiny hands and feet is something beautiful for every parent to do and look back to as the babies grow up! Thank you @bhavnajasra for always doing your job so well with all your heart for both my girls. Nobody can do this better than you, truly."
Esha was last seen on screen in the short film "Cakewalk". In the film, Esha depicts the professional and personal journey of a woman in Indian society.
The actress married her beau Bharat Takhtani in 2012. She gave birth to a girl in 2017 and named her Radhya. In June 2019, she gave birth to her second child, a girl named Miraya.