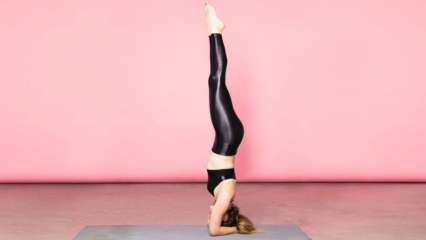 Anushka Sharma instantly grabbed eyeballs after she performed Shirshasana during pregnancy. In the photo, she is seen taking support from the wall and Virat Kohli while doing the yoga pose. While talking about the same, Anushka wrote on her Instagram page that her doctor recommended she can do all the asanas which she has been doing before her pregnancy too. The actor performed the yoga under the supervision of a yoga teacher.
But what are the benefits of 'Shirshasana'?
As per Yoga in the Daily Life, Shirshasana (headstand) increases blood supply to the head, therefore is beneficial for brain function and all sensory organs in the head (eyes, ears, etc). Improves memory and the ability to concentrate. This Asana stimulates and regulates all the body's systems. Helps to counter problems related to menopause. Develops physical and mental contentment and aids spiritual progress."
The website also gave a caution which read as "Avoid this Asana during menstruation and when there is high blood pressure, dizziness, cerebrovascular disorders, glaucoma or problems of the cervical spine."
Before performing Shirshasana, the person has to start with Vajrasana position.
Meanwhile, Anushka wrote on her Instagram page, "As yoga is a big part of my life, my doctor recommended that I can do all such asanas that I was doing before I was pregnant barring twists and extreme-forward bends, but of course with the appropriate and required support. For the Shirshasana, which I have been doing for many years, I ensured that I used the wall for support and also my very able husband supporting my balance, to be extra safe. This was also done under the supervision of my yoga teacher @eefa_shrof who was virtual with me through this session. I'm so glad I could continue my practice through my pregnancy."