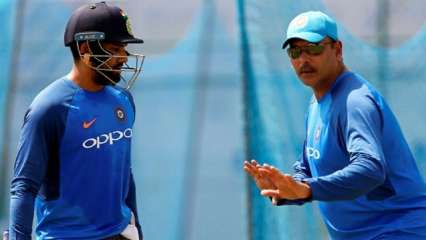 Former Indian cricketer Gautam Gambhir has opined that opening batsman Rohit Sharma's injury fiasco could have been handled better by the Board of Control for Cricket in India (BCCI).
Gambhir said that the situation required a clear communication between team India head coach, Ravi Shastri, Chairman of selectors, Sunil Joshi and the Indian physio.
Rohit, even after playing the last three games for Mumbai Indians in the IPL, was rested from the limited-overs leg of the Australia tour and now is set to miss the first two Tests as well.
Skipper Virat Kohli too mentioned that there was a lack of clarity regarding his injury and it would have been better for him had he flown to Australia with the rest of the squad.
Rohit is now recovering at the National Cricket Academy in Bengaluru and next assessment will take place on December 11.
Speaking on Star Sports show Cricket Connected, talking about the whole episode Gambhir said, "The Rohit Sharma situation could've been handled pretty easily since there wasn't any need for too many people to get involved. Only the head physio, head coach and chairman of selectors were to be involved in the injury case. Had there been clear communication with the 3, it would've been enough. Of course, Virat Kohli were to get updated at every step through Ravi Shastri."
Former cricketer VVS Laxman too was of the same view, given the series is being held in the middle of a pandemic and strict quarantine regulations are being followed, especially in Australia.
"Rohit Sharma is a very valuable player in Test matches. So I would've kept him in the chain, subject to fitness, would've definitely kept him in the picture. Secondly, you could've sent him with the team after that, keeping the quarantine rules in mind. Because there is a 14-day quarantine, in the soft quarantine since you have been in the bubble in UAE. Then you move to another bubble [in Australia]. In soft quarantine, you can practice, train with teammates, hit the gym.
"But when you're taking a commercial flight to Australia, you won't be allowed to go out of your room and mingle and come in contact with people. So, I believe, the BCCI should've thought of this in hindsight," Laxman said on the show.