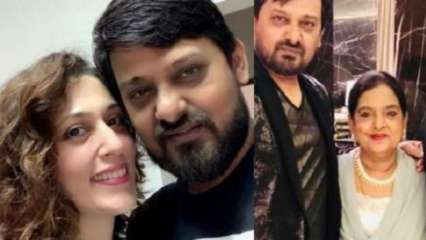 Kamalrukh Khan, who is the wife of late music composer Wajid Khan, has alleged that every day in the house without him is a fight with the in-laws. While she recently spoke about the scare tactics being used to get her to convert to Islam, Khan has now stated that they are being a hindrance in the children's due inheritance too.
While talking to Times of India, Kamalrukh alleged that she has been facing injustice at the hands of her in-laws.
She shared, "Life has brought me to a point where I need to fight for my children's due inheritance as his family has usurped his assets post Wajid's death. I am both father and mother to them, and in practical matters, always have been!"
Kamalrukh said that Wajid's marital support was their source of earning. "My daughter is 16 years and my son is 9 years. I have to pay for their education and our upkeep. I work as a clinical hypnotherapist and our primary source of earning has been Wajid's marital support," she mentioned.
Talking about fighting for everything, Khan added, "If that too is being snatched away (by those who haven't bothered to keep in touch with me or my children for the past 7-8 years, on such unfair grounds, I need to fight back on every front."
"Also my reasons for speaking out is tied to an inherent sense of justice. No woman should have to face what I have faced during these 17 years of marriage," she said.
In the same interview, Kamalrukh alleged that Wajid's family interfered in the couple's matters more than what was healthy. She said that his mother would constantly ask him to re-marry since they were not married as per the Muslim law.
Khan said that it was the reason that Wajid could never be the husband she deserved. She also went on to allege that the family would try and scare her by stating that Wajid would divorce her if she didn't convert to Islam. The couple, despite it all, did not get divorced.