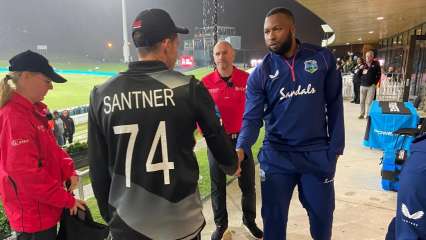 New Zealand have won the T20I series against the West Indies by 2-0, after the final game of the three-match series on Monday, was abandoned due to rain at the Bay Oval in Mount Maunganui.
West Indies had their moments in the series as in the first game, they scored 179 in 16 overs and it went down to the wire, before New Zealand chased it down in 15.2 overs.
However, they were beaten comprehensively in the 2nd following Glenn Phillips' fastest T20I hundred for New Zealand in the second game as the hosts won the game by 72 runs after setting a humungous total of 238.
All done at @BayOvalOfficial. Still raining and not enough time to get a game in. Captains shake hands with a damp end to the KFC T20 Series and the team taking it 2-0 #NZvWI pic.twitter.com/RQpvV8qWHy

— BLACKCAPS (@BLACKCAPS) November 30, 2020
West Indies skipper Kieron Pollard sounded disappointed after the series loss and admitted that he didn't expect his side to be outplayed by the Kiwis, especialy in the shortest format.
After the game, Pollard said, "Obviously disappointed. As a unit, didn't expect to be outplayed this badly. Onus was on us to compete and win the series. The conditions are totally different to where we come from. We didn't have enough time to practice, to get middle wicket practice, like that, which is why it's been hard to win in New Zealand."
Pollard was severe on his side's attitude while fielding and indiscipline in the bowling. In the two completed games, the Windies gave away 28 extras in total, including 10 no-balls.
"Fielding is an attitude. That's the only time it's 11 vs 2 on the park. And if you don't show the intent to want to do it, it's going to be difficult. So as individuals, we have to look in the mirror. We don't want to feel like laughing stocks in the dressing room."
The two-time T20 World Champions are currently at 9th position in the ICC World T20 Rankings. Given, there's a World Cup approaching in 12-months time, Pollard said that the players need to pull-up their socks otherwise, their place in the West Indies squad could be in danger.
We have an opportunity now to think about it and come back. Next year is very crucial with the World Cup coming up. So if players don't show that attitude, they may get the boot," he added.
Pollard, however, hoped for a better showing from the Test players in the upcoming two-match series, starting on Thursday, December 3 and said that West Indies can get something out of that series.