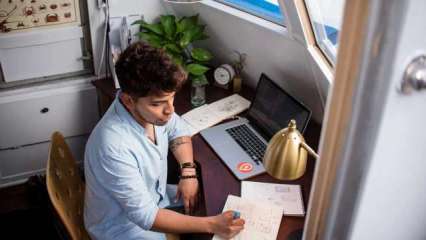 Incidents of cheating are on the rise, as exams are now being taken online to keep up with the new normal of the pandemic. So much so that the authorities at prestigious colleges and universities like the Indian Institute of Technology (IITs) are becoming increasingly frustrated.
According to an Indian Express report, there have been incidents of students discussing question papers on WhatsApp groups, making conference calls with peers, looking up the internet for answers on a separate device, during an exam. 
This has forced various IITs, and the government to make certain decisions to protect the academic integrity of certain centrally-funded institutions.
Last month, the Ministry of Education has set up a 10-member committee to "develop a common protocol for online internal examinations" in centrally-funded education institutions for ensuring "security and sanctity" of the exams that is to be held in the near future. The committee is headed by  IIT-Madras director Bhaskar Ramamurthi and has other members like Directors of IIT-Kanpur, IIT-Bhubaneshwar, IIT-Delhi, IIT-Bhilai, NIT-Durgapur, etc.
It is to be noted that IITs had decided in July that they would hold online classes till year-end.
There have been reports of students in IIT-Bombay, IIT-Kharagpur, IIT-Ropar using WhatsApp groups to share solutions to questions, and sometimes using bio-breaks to call their peers during the examination.
An Indian Express report quoted an IIT-Bombay professor as saying that cheating is 'rampant' and done by 'almost 95 percent students'.
Professors have said that due to the relative marking system at the IITs, students who had earlier been scoring good grades, are now scoring less than before.
Now, IITs are coming up with several measures to clamp down on cheating. In IIT-Delhi and IIT-Ropar professors are setting length questions papers with shorter time limit to make sure that students have no time to discuss the answers. Moreover, some universities are using the remote proctoring method where the invigilator oversees the exams on a live camera. However, the camera's fieeld of view is limited, and many students have used that to its advantage to indulge in rampant cheating.
Even after the imposition of these measures, students have found ways to cheat. The situation has placed the university authorities in a quandary.
The Universities are now mulling over setting up an honour code for exams to prevent cheating. Citing the example of western universities, professors are saying that the penalty for breaking the honour code will be so high that it will automatically demotivate the students from cheating.