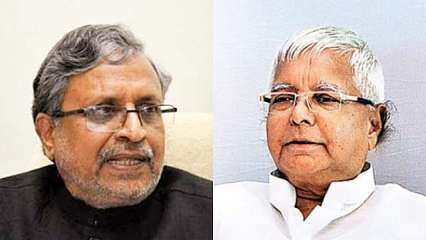 Senior BJP leader Sushil Kumar Modi on Tuesday claimed that RJD patriarch Lalu Prasad is trying to poach NDA MLAs in Bihar in a bid to topple the Nitish Kumar government and help the Grand Alliance helmed by his party achieve power in the state. Modi made the sensational assertion on his microblogging site Twitter, sharing a mobile number which, he claimed, Prasad was having access to despite serving sentences in fodder scam cases.
"Lalu Yadav making telephone call (8051216302) from Ranchi to NDA MLAs and promising ministerial berths", Modi tweeted, tagging a number of media outlets."When I telephoned, Lalu directly picked up. I said dont do (sic) these dirty tricks from jail, you will not succeed", added the former deputy chief minister of Bihar.
Lalu Prasad has been putting up at the bungalow allotted to the Director of RIMS  in Ranchi for the past few months, which is seen as a favour extended to the ageing and ailing leader by the sympathetic Hemant Soren government in which the RJD is a partner. He has been sentenced by a special CBI court in a number of fodder scam cases.Initially lodged at the Hotwar Central Jail, he was moved to the RIMS hospital in the Jharkhand capital on medical grounds.
In the recently concluded Assembly elections in the state, RJD made a thumping comeback emerging as the single-largest party with a tally of 75 seats. However, the five-party Grand Alliance fell way short of the magic mark of 122.On the other hand, NDA won the elections with a stellar performance by the BJP, which got only one seat less than the RJD.
(With agency inputs)