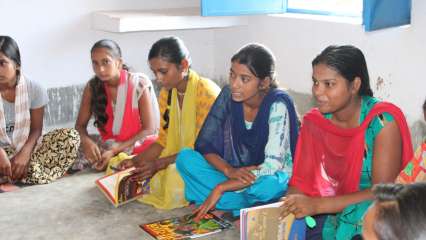 Contraception, family planning, reproductive health are still considered taboo topics in rural India. But in a Jharkhand village, a young group of girls is trying to change that.
A group of girls from Jharkhand have taken an initiative to spread awareness about contraception and family planning in their village.
"One should marry only after 18 years of age, plan a baby after at least two years of marriage and there should be a minimum gap of three years between the first and second child," says Lovely Kumari, a 21-year-old changemaker.
The young girls from Nawadih village, Bokaro district of Jharkhand have started educating their mothers and village women about contraception, family planning and sexual health.
The idea that open communication and male involvement are keys to improving family health is slowly gaining ground as the girls not just educate themselves about such topics, but also make sure that this critical information reaches others.
"Using contraception isn't just about the well-being of the family or your husband. It is about your reproductive health. Every woman must take care of herself because having a big family will only lead to problems," says 30-year-old Sunaina Devi who recently started using a contraceptive method.
Credit also goes to the awareness programe 'Main Kuch Bhi Kar Sakti Hoon' that provided the much-needed impetus to these villagers.
Main Kuch Bhi Kar Sakti Hoon (MKBKSH) or "I, A Woman, Can Achieve Anything" is an edutainment initiative launched by the Population Foundation of India (PFI). Through the edutainment initiative, the makers want to highlight the societal and cultural norms around Indian families and educate the people on the same.
"I now know that Copper T is used for a span of five years, Injectable Contraceptive MPA (Under Antara Programme) is injected every three months and Chhaya pills are consumed twice a week," says 21-year-old Guriya Kumari.