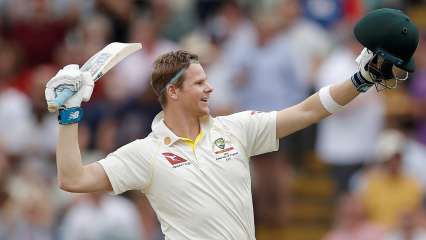 A little tap on the helmet, then a tap in the middle, two taps on the foot, one look at the bowler, then taps at the foot again and good to go. No, that's not the to-do-things of an antakshari game but the batting routine of the the number one batsman in the world in test matches – Steve Smith, which he does after every ball.
In his own words, he likes to mess around with himself, touch different parts of his body, but this is his way of focussing on the game and not think about anything else. He said through this, he has just something to go back to after every ball because for a batsman there's just one ball which can get you out, so you have to stay focussed throughout.
When he started his career, he was a leg-spinner from New south Wales, who could bat a bit. That leg-spinner now averages 62.84 in test matches with the bat and the bowling just faded away somehwere.
Initially, he used to bat at number 7 or 8 and everyone thought that this bloke was a better batsman than a bowler. But, when you look at him, there's nothing conventional about his technique, where the experts say that your head should stay still, you should stand in the line of the stumps, etc. So, defying norms is his first of many qualities as he turned that age-old tradition of 'technique is everything' upside down. When you can play like this, does the technique even matter?
Unusual Technique
The high backlift, swiping the bat across the line leaves outside the off-stump, covering his stumps with his back-leg when the bowler comes at the delivery stride – just these things only make him the most unique and original batter of all. This is just what all he does, before his bat starts to write its own story.
He has smashed 26 centuries in 73 games, with 3 double hundreds. So, on an average he is scoring a hundred in every 2.8 games, and this is considering he started as a bowling all-rounder in his career. So, how does a player like that become the most consistent and more feared player of the format, in the times where the 'art of traditional test-match' batting has lost somewhere?
We have seen individuals taking the game away from the opposition in shorter formats of the game, where one spell, one blinder of an innings can make you a match-winner but how do you do that in test match format, over 5 days, where not just your skill, your mindset is also at play? He himself has won so many games for Australia in the last few years.
His batting and batting style is just the method to the madness. When you look at him, he looks like he may get out at any moment. But, never does he look uncomfortable at the crease. Playing on the merit of the ball and the mixing attack and defense, he has put hard yards in the training, that lets him play for long periods of time with the scorecard ticking all the time. He isn't a natural defensive player or a slogger but his solid overall game and mental strength lets him do both the things with enviable ease.
Captaincy career, that wasn't
His batting prowess led him to lead his national side for a significant amount of time. He was one from the Ponting-school of cricket where the batsman thrives in the leadership role. The ease in transition of Australian cricket from Ponting to Michael Clarke and then too Smith has to be one of the highlights of Australian cricket. 
Under him, Australia won 18 tests out of 34, 25 out of 51 ODIs and 4 out of 8 T20Is, a winning percentage of 50 or above in all 3 formats. He was creating his own next-gen Australian side, leading with example. And as fate had it, the sandpaper scandal just washed everything away, especially his short captaincy career.
People thought, that a one-year ban could take a lot out of a 29-year old and that he wouldn't remain the batsman he was and many other stuff, but it looked like he went on a break and came back as if nothing happened. Yes, he didn't have a great 2019 World Cup by his standards scoring 379 runs in 10 matches and people's fear did start ringing true.
But, not just for Smith, it wasn't a great year for for Australian cricket as well. As they lost an ODI series by 5-0 against England, lost test series against Pakistan and India, and everone thought how does one or two players' absence make so much difference that from looking like winning everything, Australia looked like a pale shadow of themselves.
Ashes 2019 – Series that showed the human being the legend
However, Ashes 2019 was just the injection that Australian crickcet needed. Yes, David Warner also came back, Marnus Labuschagne scored runs but Australia looks and feels different altogether with Smith's presence. He exudes confidence in that line-up like no other. Australia were in trouble at 122-8 in the first match of the Ashes series at Edgbaston. He settled down, grinded, dig deep and scored 144 (219) to takehis side's score to 284. If it wasn't enough, Smith just stamped himself over England shores with another score of 140+ to win the game for Australia.
This was the guy, who was playing his first test innings after almost 18 months, after a one year break from cricket, against England with one of the harshest crowds in the world booing him all over those 5 days. He scored 286 runs in just that one game. In 7 innings of that series he amassed 774 runs. Only Don Bradman and Mark Taylor have more than him in one Ashes series for Australia. Bradman scored 974 in 1930 series and 810 in 1936 while Taylor made 839 runs in 1989. Had he played all the games, who knows how many more he would have scored. He averaged 110.57 with scores of 144, 142, 92, 211, 82, 80, and 23. English bowlers were just clueless about how to get him out.
He single-handedly almost won the Ashes series for his side, only if Australia had not wasted their review in the penultimate over of the Headingley test and used for the Nathan Lyon's plumb appeal.
Record against India
Till he is in the middle, whole of Australia knows that they aren't out of the game irrespective of the match situation. So, India, now have a huge challenge at their hand, especially in the longest format of the game, considering they will be bereft of services of their charsimatic skipper in the last three tests. "To have Smith coming back will be a huge headache for India, he has always scored runs against them," said Maxwell. And, he isn't wrong as last time when India beat them Down Under, both Smith and Warner were not part of the Australian side.
Smith averages 84 in the ten matches he has played against India scoring 1429 runs. In the 50-over games too, Smith has had wood over men in blue scoring 907 runs at over 60. These are serious numbers, with immaculate consistency. But, with an improved pace attack India does have chance against Smith and co., only if it's just a touch.