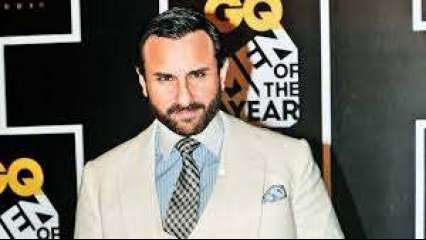 In August this year, much to the delight of his fans, Bollywood actor Saif Ali Khan announced his autobiography. However, now it seems like the 'Bhoot Police' star is going to 'chicken out' owning to the abuse he is anticipating that will be directed at him if such a book is released.
In a recent podcast with actor, model and social media influencer Amanda Cerny, the actor revealed that he is thinking of opting out of writing the book since he doesn't want to share things about his life with a certain section of audience in India that is "negative". 
Appearing on Amanda's show with 'Bhoot Police' co-star Jacqueline Fernandez, Saif stated that he doesn't know if he is 100 pre cent prepared to put himself through he abuse that he thinks will come his way. 
"Someone asked me to do a book, and I might chicken out, because it's too much work to do it properly, and then you have to be very honest as well, which probably will disturb quite a few people," Saif said. 
Jacqueline interrupted and stated, "Don't you think that's what we need right now?."
Saif continued, "Honestly, I don't know if I am prepared to put myself through the 100% abuse that's going to come my way."
He further added, "I'm really sorry to say it, I'm going to say it, I don't think the general audience — and not just general — but there will be a section of the audience that's so negative in India that I don't want to share my life and talk about things…" 
While laughing, Saif disclosed that he hadn't even told the publishers that he was having second thoughts. "Maybe I'll do it, maybe I won't," he said, sharing an anecdote. "When I was walking today, part of the book should describe what I was feeling and thinking looking at these trees and thinking about how lucky we are to be shooting in Himachal, and it's not really," he said.
Meanwhile, Jacqueline explained to Saif why Amanda and she came up with the idea of the podcast and said that they focused on the good and positive things and news. The actor told Saif that his books was one of the positive and said that sometimes people just want to read thoughts and learn a little from and about you.
To this Saif replied that he would rather rephrase what he had stated and said, "I think I'll have to work hard to find the right balance between artistic description in a kind of dialogue about what one feels and to kind of decide how personal you want to get. And, I think it could be a really good platform to share some kind of experiences."
He later also added that he's excited about it and said, "I am going to try and do it properly. But, I think it can't be done easily. They (publishers) had an idea that I just narrate to a writer and then we run through various topics but I think it'll require some efforts sitting down and thinking, writing and coming through the art. It can't be just raw." 
Earlier, talking about his yet-untitled autobiography, to be published by HarperCollins Publishers India, Saif had said, "So many things have changed and will be lost with time if we don't record them. It would be nice to look back; to remember and to record. It has been funny and moving and I must say, this is quite a selfish endeavour. I do hope others enjoy the book, too, of course."