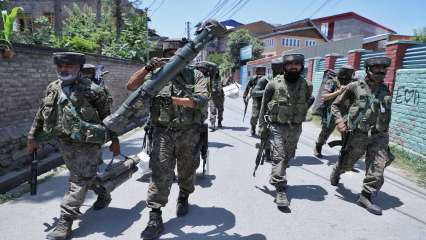 Prime Minister Narendra Modi held a review meeting on Friday on the Nagrota encounter. During this, Home Minister, NSA, Foreign Secretary, Senior Intelligence Officer also attended the meeting. Four militants in a truck loaded with rice sacks entered the Nagrota area of ​​Jammu district early Thursday to spread unrest in the Kashmir Valley. On receiving the intelligence report, the army and Jammu and Kashmir Police erected a barrier near Ban Toll Plaza around 5 am. The terrorists were looking to take advantage of the darkness. A group of terrorists opened fire on the security forces while checking the vehicles. After this, the encounter started.
The terrorists were trying to cross the toll by sitting in the truckThe terrorists started firing on the security forces sitting in the truck. In response, the security forces blew up the truck itself. The terrorists then fled towards the nearby forest. The four terrorists were killed in a joint operation of the army and police before they could carry out a dreadful incident. Two Jammu and Kashmir SOGs were also injured in this encounter. A huge amount of ammunition has been recovered from the terrorists.
The movement of this truck was registered on November 9 in LakhanpurThe movement of this truck carrying terrorists to Kashmir was registered in Lakhanpur on November 9.  Even after searching the CCTV footage and checking the records, there is no clue how this truck returned to the state via Lakhanpur. It is being speculated that this truck may have entered the state from a minor post in such a situation. Earlier, the same truck entered the state via Lakhanpur at 8.51 am on November 1.
Truck registration number of KashmirDespite the ban on interstate routes by the state government, if the truck is removed from a minor post, it can also be seen as a major security lapse. Due to the Corona epidemic, only Atal Setu and Lakhanpur have been opened for vehicular traffic among the state's interstate routes. The registration number of the truck from which the terrorists were going to Kashmir was from Kashmir. It has also been revealed that this number plate was fake. This number was of Mahindra's pickup. Action has also been taken at some places in Kashmir to sabotage the network of terrorists.
Army and police operations were appreciated in this regard. Army Chief General Manoj Mukund Narwane has given a clear warning to terrorists from Pakistan that terrorists trying to infiltrate into India by crossing the Line of Control (LoC) will not survive.