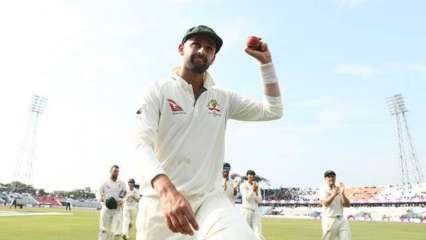 An offspinner having success in Australian pitches was considered a rarity. However, the career of Nathan Lyon has always been about overcoming the odds. After starting out as a pitch curator at the Adelaide Oval, his career just meandered along until he was spotted by South Australia Redbacks coach Darren Berry. This was one spinner who was different from the rest. Within seven months, he was playing Test cricket for Australia. In the Galle Test against Sri Lanka, he struck with his first ball when he dismissed Kumar Sangakkara. Nathan Lyon ended up taking his maiden five-wicket haul and Australia won the Test to seal a series win.
From that first ball wicket in Galle, Nathan Lyon has hardly looked back since and he is now considered not just the second-best Australian spinner after Shane Warne but he is arguably one of the best offspinners in the current era. The statistics that Nathan Lyon has accumulated over the years has simply been staggering. On the occasion of his 33rd birthday, we take a look at the exploits of Nathan Lyon, who is affectionately nicknamed G.O.A.T by his teammates, meaning the Greatest of all Time.
Is he the Greatest?
Is Nathan Lyon the greatest of all time when it comes to offspinners in cricket? When one talks about right-arm offspinners, Nathan Lyon is only behind India's Harbhajan Singh. In 96 Tests, Nathan Lyon has 390 wickets and he needs 28 wickets to overhaul Harbhajan's tally of 417. Amongst all the current spinners in the world, he is only facing competition from Ravichandran Ashwin who has over 360 wickets in fewer Tests.
Nathan Lyon has taken a five-wicket haul against every nation that he has played in and it is a testament to his perseverance. However, it is his performances against India that stand out the most.
His first immediate impact was when he took 7/94 on a dustbowl in Delhi in 2013. In 2017, he took 8/50, his career best figures also against India in Bangalore and Australia were on the cusp of something special only for their batsmen to surrender in spectacular style against R Ashwin. However, it was his performance in Adelaide in 2014 that summed up his value to the team.
In the aftermath of the Phillip Hughes death, emotions were high. Lyon put up a performance for the ages as he picked up 12 wickets in the match and gave Australia an emotional 48-run win to give the perfect tribute to their former team-mate. Nathan Lyon's pressure and accuracy has served as the ideal foil for the likes of Josh Hazlewood, Mitchell Starc and Pat Cummins to wreck havoc in the batting line-up. Just like how Shane Warne was the perfect foil for Glenn McGrath, Jason Gillespie and Brett Lee, Lyon continues to be the support for Australia's pacers to show their skill.