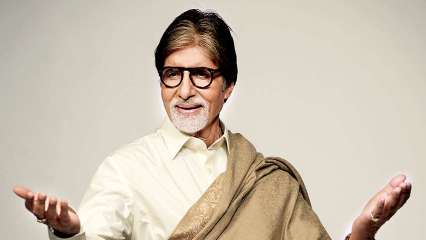 While the top-class content, cinematography and powerful performances by both lesser-known and well-established actors on OTT platforms has been praised for the last couple of years now, people across the globe have resorted to the medium for entertainment even more during the coronavirus-induced lockdown. And thanks to these digital mediums and the fantabulous series' they have released in the last couple of months that we did not miss out much on our dose of fun and laughter during the tough times that citizens have experienced globally due to the ongoing pandemic. 
And much like others, megastar Amitabh Bachchan too has been taking to the digital medium to get his dose of entertainment. 
Would you want to guess which series is he currently hooked onto? Well, it's Netflix's 'The Crown' season 4. 
Not that it's surprising that veteran actor Amitabh Bachchan chose to watch 'The Crown' given the hullabaloo around the lastest season that revolves around the life of Princess Diana, her 'unhappy' wedding to Prince Charles and captures in-depth how the approximately 12-year term of Britain's first women Prime Minister Margaret Thatcher came to a 'cruel' end. 
Centred around the British Royal Family, the season stars Emma Corrin as Lady Diana, Gillian Anderson as Margaret Thatcher besides others including Olivia Coleman, Helena Bonham Carter, Tobias Menzies who reprised their roles this season. 
Talking about and showering praise on how well the script had been written, the fabulous performances and the magnanimity of the show, Amitabh Bachchan in his blog wrote, "AND the CROWN in all its glory continues .. what performances .. what writing .. and what a learning on the English language pronunciations .. custom, tradition ceremony, history, opinions, monarchy … all rolled into one absolutely 'cannot stop watching' experience (sic).
On November 18, Big B also tweeted a dialogue from the series, which stated that one can't be everything to everyone and remain true to themselves. His tweet read, "T 3724 – " You can't be everything to everyone and still be true to ourselves — a dialogue from the series, where PM Harold Wilson speaking to the Queen says this to her."
T 3724 – " You cant be everything to everyone and still be true to ourselves " ~

a dialogue from the Tv serial CROWN, where PM Harold Wilson speaking to the Queen says this to her ..

— Amitabh Bachchan (@SrBachchan) November 17, 2020
Besides praising 'The Crown' for its gloriousness, Amitabh Bachchan also revealed that he, on the suggestion of "the bearded saint of udagamandalam" to get "Barack Obama biography or autobiography", read it and found it "divine as suggested".
Meanwhile, on the work front, besides hosting the quiz show, Kaun Banega Crorepati 12, the megastar will be seen in 'Mayday'. He will also be seen in an important role in Prabhas's upcoming film with Deepika Padukone.