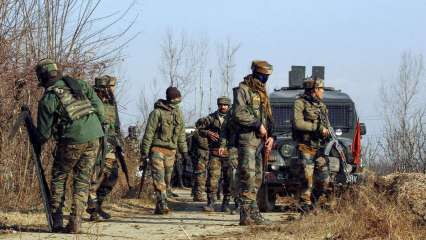 Security forces have gunned down four terrorists in an encounter near Ban toll plaza in Jammu's Nagrota district at the Jammu and Kashmir highway, early Thursday morning.
The terrorists were reportedly trapped and there was gun firing from both sides. It is also being said that the terrorists were on their way to Kashmir from Jammu in a bus. 
According to officials, the Jammu-Srinagar national highway was closed in view of the encounter. Security has also been tightened in the Nagrota area.
Meanwhile, as many as 12 civilians were injured after terrorists lobbed a grenade at security forces in the Kakapora area of South Kashmir's Pulwama district on Wednesday. Police sources said that terrorists tried to target security forces' deployment, however, the grenade missed the target and exploded on road causing injures.
All the injured were shifted to a local hospital for treatment. The injured have received splinter injures and are being tested there.  
A joint team of security forces has now cordoned off the area to nab the attackers.
Soon after the attack, the whole area was cordoned off to nab the attackers.