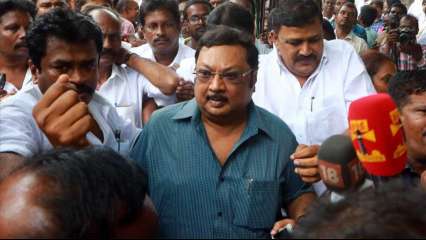 The Bharatiya Janata Party which is looking to make inroads into Tamil Nadu in the 2021 assembly elections has been wooing the expelled DMK leader MK Alagiri. 
Actor-turned-politician Khushbu had recently joined the BJP and the state unit is now working hard to find support from Alagiri.
According to media reports and speculations, Alagiri is likely to meet Union Home Minister Amit Shah who is scheduled to visit the state capital Chennai on Saturday, November 21.
There are also reports that Alagiri may soon float his own political party in Tamil Nadu.
However, when the media asked Alagiri's son to confirm the report, Dayanidhi called them rumours. He also denied having any knowledge of his father going to meet the Home Minister Amit Shah.
Later, Alagiri while speaking to a TV channel, said that he has no such plans and called it rumours. He also said that he will let people know if he is planning to float a party. 
However, some section of the media has been reporting that Alagiri is in talks with the BJP for some time now. 
If sources are to be believed, Alagiri's new political outfit may be called 'Kalaignar DMK' or 'KDMK' which may get the backing of his son Dayanidhi.
Alagiri, before being expelled from the DMK in 2014, was the party's southern strongman. During his association with the DMK, he had strong clout over party matters.
Whether they were matters related to electoral alliances to candidates to campaign planning, Alagiri wielded a strong influence.
After being expelled from DMK in 2014 for anti-party activities, Alagiri's interaction with the people including his loyalists became limited. His last prominent appearance was in a rally he organised in September 2018. The rally was held 30 days after his father Karunanidhi's demise.