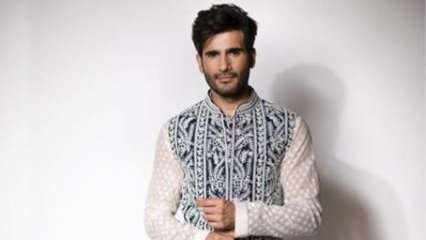 Actor Karan Tacker, who enjoys massive popularity on social media and is best known for his role as Viren Singh Vadhera in Star Plus's Ek Hazaaron Mein Meri Behna Hai and Farooq Ali in Hotstar's Special OPS, in a recent interview spoke about the brother-sister bond revealing that his biggest blessing in life is his elder sister, Sasha.
On the occasion of Bhai Dooj, Karan, in an exclusive chat with The Times of India said, "I am really lucky to have a sister, especially an older one. My conduct and interaction with women have a lot to do with the values my sister has taught me. I have always gone to her for relationship advice. The best part about having an older sister is that she tells you how to treat women right. Also, an older sister ends up becoming a second mother."
Karan further added, "During childhood, when my parents would go away for work, she used to take care of me. And, it's not just about khana banana aur khilana, she has always given me emotional support. I know that she has got my back and I can always count on her. On every Bhai Dooj, we say that our best gift is each other."
In his interview, Karan also spoke about how his sister and he have shared everything from rivalry to revelry. He also said that more than siblings, they have been friends who pull each other's leg and go out partying together. He mentioned that while his sister his elder to him, but to keep the fun in the relationship going, he treats her like a kid sister and constantly plays pranks on her to annoy her. 
Karan told TOI, "Even when I was much younger, while most of my peers went partying and clubbing, I would go out with Sasha. In fact, we keep talking about how we don't need friends outside. At the same time, we are as immature as any brother-sister duo. I feel that if you become too mature and intellectualise the relationship, the fun goes away. So, while Sasha is older than me, I treat her like a kid sister. I constantly pull her leg and play pranks, which she absolutely hates, because she likes to be treated as the badi didi. I am grateful that over the years, nothing has really changed between us."
Talking about his Bhai Dooj plans, Karan said, "Because of the pandemic, it's going to be just the four of us (parents and sister). We might be joined by a cousin, who stays in Mumbai. We will have lunch together and chat about the good old days. We are also planning to do video calls with our extended family members."
A model and a host, Karan spent most of his lockdown at home whilst treating his fans with photos of himself on Instagram every now and then. 
The actor recently shared a few photos of himself looking handsome in a Manish Malhotra creation for Diwali celebrations at home.
Take a look.