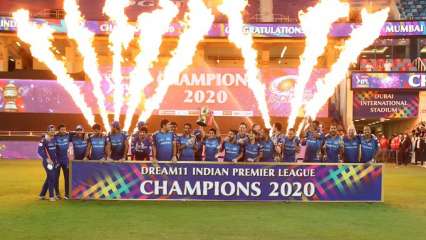 Rohit Sharma blasted his 39th IPL fifty and he made his 200th IPL appearance special as he helped Mumbai Indians beat Delhi Capitals by five wickets to clinch the IPL title for a record fifth time. It was a perfect game by Mumbai Indians as Rohit Sharma was earlier complimented by Trent Boult who took 3/30, including two wickets in the powerplay to win the Man of the Match award. Mumbai Indians' title triumph made them the second team after Chennai Super Kings to defend the IPL title. Mumbai Indians also won the IPL title for the third time after finishing on top of the table.
However, the perfect performance by Mumbai Indians was marred by a run-out between Suryakumar Yadav and Rohit Sharma. In the 11th over bowled by R Ashwin, Rohit punched a flatter delivery to the off side and set about for a quick run. However, Suryakumar Yadav felt that there was no run. Rohit was half-way down the track but Suryakumar Yadav, realising that the Mumbai Indians skipper could be out, ambled out and crossed Rohit Sharma to sacrifice his wicket. After the dismissal, Suryakumar Yadav showed no emotion and he walked off gallantly. 
Although Rohit Sharma was angry, there was plenty of praise from social media over Suryakumar Yadav's actions. In the post-match presentation, Rohit Sharma said that looking at the kind of form Suryakumar Yadav was in, he should have sacrificed his wicket. 
"We made sure Ishan and Surya had confidence – just have to let Ishan loose, and Surya is a more matured player. The kind of form he was in, I should have sacrificed my wicket for Surya. But throughout the tournament he has played some incredible shots," Rohit remarked.
Knowing their roles
Mumbai Indians had tremendous depth in their batting and bowling. Suryakumar Yadav was in fine form while Ishan Kishan became the first uncapped player to score over 500 runs in a single edition of the IPL. Hardik Pandya, Kieron Pollard and Krunal Pandya have all chipped in at vital times and that has proven to be the ultimate success for Mumbai Indians in the batting. In the bowling, Jasprit Bumrah has been phenomenal while Trent Boult stepped up admirably to fill Lasith Malinga's vacancy. James Pattinson, Nathan Coulter-Nile and Rahul Chahar all managed to provide breakthroughs for the Mumbai Indians.
"We said at the start that we need the winning habit. We couldn't have asked for anything more, right on the money from ball 1 and we never looked back. I think a lot of credit goes to the people who worked behind the scenes – often they go unnoticed. Our work started long before the IPL started, and we wanted to make sure we filled the gaps in previous seasons. I had to find the balance to get the best out of them. I'm not someone who can run behind them with a stick, and it's important to instil confidence in the players. Krunal, Hardik and Pollard have done their job for a long time, they know their roles. Rahul missed out today, and we need to make sure we put an arm around him and assure him that he didn't do anything wrong and that it was a tactical move," Rohit stated.
Mumbai Indians' fifth title triumph, in addition to becoming the second team after Chennai Super Kings to defend the title as well as winning the IPL three times from the No.1 spot are a testament to them being the greatest team in the IPL.