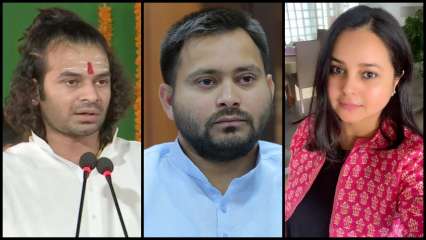 With many Bihar exit polls predicting victory for the Rashtriya Janata Dal-led Grand Alliance, if Tejashwi Yadav wins big in the Bihar Assembly polls on Tuesday, then he will be the second leader to join the elite league of a third Chief Minister from a political family.
Tejashwi Yadav's father Lalu Prasad and his mother Rabri Devi served as Chief Ministers of Bihar from 1990 to 2005.
Bihar elections counting has started with Mahagathbandhan leading in early trends. Supporters of the Rashtriya Janata Dal (RJD) and Tejashwi Yadav are very happy with the trends shown in the Bihar Exit Polls.
Wishes and greetings on social media have started pouring in for Tejashwi Yadav. Apart from social media, a large number of supporters have also gathered outside Rabri Devi's residence in Patna.
Tejashwi's siblings, including his sister Rohini Acharya and brother Tej Pratap Yadav, also tweeted.
Tejaswi's sister Rohini Acharya (who is very active on social media) has tweeted "Vijay Bhava..Tejaswi Bhava Bihar".
विजई भव… तेजस्वी भव बिहार 

— Rohini Acharya (@RohiniAcharya2) November 10, 2020
At the same time, Tejashwi Yadav's elder brother and former Health Minister of Bihar Tej Pratap Yadav also wrote "Tejaswi Bhava: Bihar".
तेजस्वी भवः बिहार!

— Tej Pratap Yadav (@TejYadav14) November 10, 2020
Many exit polls have predicted thumping victory for the RJD-led Grand alliance in Bihar predicting that Tejashwi Yadav may dislodge the Nitish Kumar-led NDA alliance, while others have predicted a hung assembly.
After the 2015 Assembly polls, Tejashwi Yadav was made the Deputy Chief Minister of the state. However, he had to step down after Janata Dal-United chief and Bihar Chief Minister Nitish Kumar dumped the Mahagathbandhan (Grand Alliance) partner and once again forged an alliance with the NDA.
Bihar voted for 243 seats in three phases on October 28, November 3 and November 7.