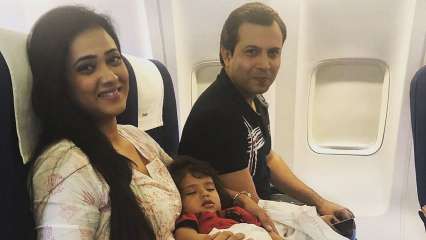 Abhinav Kohli, estranged husband of Shweta Tiwari, has shared a video which proves that she stopped him from entering the house. He said that Shweta did not let him meet their kid Reyansh even for a second and forced him to stay outside the house.
'Mere ghar mein mat aao, bahar raho (Don't enter my house, stay outside),' Shweta was heard saying in the video. 'This is the reality. This is what is the truth,' he replied while streaming the video.
Abhinav shared the video from outside the house and wrote, "Jis din Baby ko mujhe thodi der ke liye milaya aur phir gaayab ho gayi aur main darwaze pe bell bajata raha. Yeh uss dopahar ka video hai aur baby bol raha hai tum hotel nahin aaye. (The day I was ringing her door bell and streamed live. That day he said that I did not come with him to the hotel)."
He said, "My goodness was misused. First kept me away from my child from May to September then gave him when he had Corona and when he did not want to come. I asked you to come and convince him and what did you do with me you ran away with him yesterday."
Kohli added, "I found you after so much difficulty and you did not let me see him even for a second. How much will you do wrong to me I also want to see your limit."
Here are the videos:
In an interview with Times of India, Abhinav had alleged that Reyansh was missing after being with him for 40 days. He alleged that despite going to their house, he has been unable to trace Reyansh.
"Since Sunday (October 25), my son Reyaansh has been missing. I don't know where he is. He was with me for 40 days all the time. But since last Sunday, Shweta has taken my son, Reyaansh to an undisclosed location without telling me," he said.
Claiming he hasn't seen or heard from his baby boy since five days, Abhinav had shared, "Since, Sunday I have been chasing Shweta on phone, messages and I personally went to her house also, but she is not meeting or taking my calls. In fact, she has blocked me. It has been five days, I haven't seen my boy, not heard his voice."
Alleging that Shweta 'vanished' with the baby, he had said, "I tried every way possible. I went to her sets as well with the expectation that maybe she is ignoring me, but at least I will get to see my son. My message was also passed to her on her sets but she didn't respond and vanished with the baby."