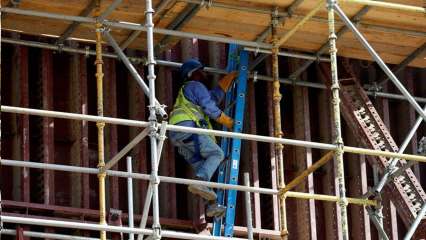 In a big move in the interest of workers, Saudi Arabia has abolished the controversial 'Kafala system' which will enable the labourers working in the country to change the contracts and will not be forced to work on low wages.
The Ministry of Human Resources and Social Development announced this on Wednesday. The new system will come into effect from March 2021.
As per the ministry, all those restrictions will be removed due to which migrant workers had to be tied up in a contract with their employer even at low wages. The new labour reform reforms will come into force in March 2021.
Since a large number of Indians work in Saudi Arabia, this news is no less than a 'Diwali gift' for them.
"We have taken a step towards creating an attractive labour market and creating a good working environment," Deputy Minister Abdullah Abuthunain said.
"After the implementation of the new labour reforms, foreign workers will have the right to change jobs and leave the country without the permission of the employer," he added.
It may be noted that this year, Saudi Arabia, who is heading the G20 group, is working on ambitious plans to diversify the oil-dependent economy and this decision of the government will prove beneficial for the country. This will help attract high-skilled workers and create new jobs in the country.
The new initiative will base the relationship between employers and workers on a standard contract that should be certified by the government and will allow workers to apply directly for services via an e-government portal, instead of a mandatory employers' approval.
The ministry aims to certify the contracts of all foreign workers by the end of the first quarter of 2021.
What is Kafala system?
Saudi Arabia's Kafala system imposes a number of restrictions on workers. Simply put, the labourers who come here from other countries and work here have no opportunity to escape oppression. They cannot leave the job on their own and it is mandatory to get permission from his employer even to go out of the country. Without the permission of the employer, a worker cannot change the job nor go back. It has also been found that many employers confiscate the passports of their labourers and force them to work excessively.
Organizations working for human rights, including Amnesty International, have been demanding Saudi Arabia to abolish the Kafala system. These organizations say that such a system openly violates the human rights of workers.