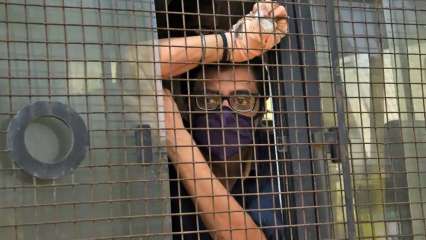 The Mumbai Police on Wednesday evening filed a fresh FIR against Republic TV editor-in-chief Arnab Goswami for allegedly assaulting a female officer during his arrest in a 2018 abetment to suicide case. Earlier in the day, the police entered Goswami's residence and took him into custody.
Arnab Goswami has been charged under Sections 353, 504, 506 and 34 of the Indian Penal Code in the FIR. These sections deal with charges such as assault of a public servant, breaking public peace and criminal intimidation.
The journalist has been arrested in a case related to the death of a 53-year old interior designer, Anvay Naik, who was the managing director of Concorde Designs Private Limited.
Naik in his suicide note accused Goswami and two others, Feroz Shaikh and Nitesh Sarda of not paying dues worth 5.4 crore rupees. Naik and his mother Kumud Naik were found dead in their home in Kavir village of Alibaug two years back.
Since Arnab Goswami's arrest, several Union Ministers have taken to the social media to condemned the arrest.
Home Minister Amit Shah tweeted, 'Congress and its allies have shamed democracy once again. Blatant misuse of state power against Republic TV and Arnab Goswami is an attack on individual freedom and the 4th pillar of democracy. It reminds us of the Emergency. This attack on free press must be and WILL BE OPPOSED.'
Information and Broadcasting Minister Prakash Javadekar wrote, 'We condemn the attack on press freedom in Maharashtra. This is not the way to treat the Press. This reminds us of the emergency days when the press was treated like this.'
'Shades of the Emergency! The arrest of Arnab Goswami is an attack on the freedom of press. Those who really believe in this freedom must speak up!', tweeted Foreign Minister S Jaishankar.
On the other hand the Congress, a partner in the state's ruling coalition, accused the BJP of 'selective outrage'.
The Editors' Guild of India expressed shock. The media body in a statement said, 'We condemn the sudden arrest and find it extremely distressing. The guild calls upon Maharashtra to ensure that Goswami is treated fairly and state power is not used against critical reporting by the media.'