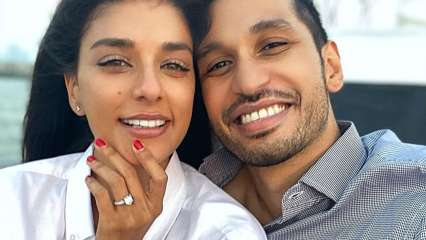 Singer Arjun Kanungo has taken his fans by surprise with a new announcement. He got engaged to his longtime girlfriend Carla Dennis on a yatch! The couple appears to have gone on a vacation away from India, which is where he popped the question, and she said yes!
Arjun announced the news with series of images of him with Carla. She was seen in a red dress with a white shirt over it. Arjun was seen in a grey shirt and black pants. The photos consisted of both selfies and images of them together.
Kanungo announced the news writing, "I've wanted to ask her for so long. Couldn't wait any longer, so I did! #Engaged!!!"
Here's his post:
The engagement announcement comes a few days before Arjun Kanungo comes out with a song that he has crooned along with Shehnaaz Gill. She became popular through 'Bigg Boss 13', especially after the host Salman Khan called her 'Punjab ki Katrina Kaif'.
For the uninformed, Arjun Kanungo was previously married in 2018. He had tied the knot with Natasha Sandhu in February that year, but unfortunately she passed away due to cardiac arrest the same year, in September.
Arjun had made the announcement writing:
I met Natasha nearly 10 years ago. She was my best friend, my girlfriend, and in February this year she became my wife….

Posted by ARJUN on Saturday, September 29, 2018
I met Natasha nearly 10 years ago. She was my best friend, my girlfriend, and in February this year she became my wife.
I have always chosen to keep my personal life private, so we chose to keep our relationship off social media, although our family and friends have always known. It was our little secret, which brought us even closer together.
On September 20th Natasha passed away from a sudden cardiac arrest. I am struggling to put into words how I feel.
She was my soul mate and the person I had chosen to spend my life with. At my lowest points, it was Tash who lifted me up and made me believe in myself. She believed in me from day one. She shared my intense love for music, and when I wrote songs she was the first person I would play them to. So many of my songs have been for her and about her.
She studied at Imperial College and was a fully qualified doctor, which for most people would be enough. But for Tash it was just one of the many things she did. She achieved anything she put her mind to, running a household, helping to manage my career, and looking after family and friends.
She genuinely cared about people, and would often come home crying about patients she had seen that day. She was the kindest, most caring person I've known. Despite how busy she was, she always found time for others, constantly putting everyone before herself.
We have been on an amazing journey, building our lives and my career as a tag team. We have travelled to every continent and made memories that will stay with me forever. I am so thankful for all the times we shared, and that we were able to see the whole world together.
She touched so many people around the world and was an inspiration to so many. She is an example of a woman who was able to have her own career while supporting her partner with theirs.
She lived life to the max and never missing an opportunity to experience something new. She was like a dynamo, full of energy and passion. She loved life and she loved people.
She was fiercely loyal. She knew I was soft but she protected me and never let others take advantage of me. She fought for me against all odds. Nothing I have done would have been achieved without her support.
I still remember how beautiful she looked on our wedding day. She has made me happier than I ever believed possible. She was the most beautiful person inside and out.
Her passing has come as a total shock to myself and to our families. I hope you understand my need to take a break from social media and from music. I ask that you please bear with me as I work out how to move forward.
She loved you all so much. Please keep Tash in your thoughts and prayers. She will live forever in our hearts and the impact she made will never be forgotten.
My baby Natasha, may you forever rest in peace