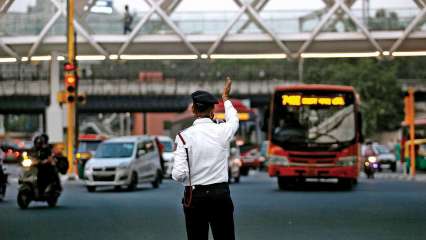 A vegetable vendor from Bangalore was fined Rs 42,000 for multiple traffic violations.
The violator, identified as Arun Kumar, has been fined a total of Rs 42,500 for violating traffic rules 77 times.
On Friday, Kumar, a resident of Madivala, was stopped by the traffic police for not wearing a helmet. Then the police proceeded to give him a two-meter-long bill for Rs 42,500.
Kumar sought time to arrange for the money, meanwhile, the police have impounded his vehicle.
In another similar incident, a vegetable vendor named Manjunath had to pay a fine of Rs 15,400  for not wearing a helmet. The police claimed that he did not wear the helmet 70 times over a period of one year.
The police caught the offender and handed him a challan of Rs 15,400.
Ever since the implementation of the strict new traffic rules, incidents of heavy fines have spiked up across the country.